"Master Potter" – Book Review
Amy Lee

Book Reviewer

2003

21 May

COMMENTS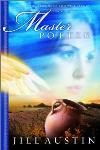 Author:      Jill Austin
Publisher:  Destiny Image

In today's growing market of products and entertainment options that explore the occult, angels, demons, sorcery and other supernatural phenomena, Jill Austin's "Master Potter" offers a wonderful alternative to the general market's Harry Potter series.

"Master Potter" begins the story of an abused and broken vessel named Forsaken who is redeemed from the Potter's Field by Master Potter, renamed "Beloved" and given a new destiny.

This allegorical work follows Beloved as she makes right and wrong choices, all while learning to trust Master Potter and know Him more intimately.

Although the language can be a bit melodramatic at times, it is easy to envision the speakers as animated characters on a grander cinematic scale.

Overall from beginning to end, "Master Potter" is a delight and will leave readers anticipating the sequel, "Master Potter and the Mountain of Fire."


Used by permission.  CCM Magazine © 2003  Click here to subscribe.

Get 1 Christian Bestseller for FREE, plus FREE shipping.  Click here for details.