Meeuwsen's New Book Says We Must Surrender to Live Boldly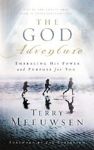 A well-known Christian television personality says believers are one choice away from an extraordinary life. That is why Terry Meeuwsen, co-host of "The 700 Club," is encouraging believers through her new book to live boldly for the Lord.
In "The God Adventure: Embracing His Power and Purpose for You" (Multnomah, 2005), Meeuwsen tells readers that the life of a believer should be one of excitement. The book follows an unexpected change in the author's life and that of her family when, several years ago, she and her husband felt God was leading them to adopt three sisters from the Ukraine.
The Christian TV host says that decision surprised many of her friends and family members. However, she says she learned through the experience that, "When you follow God, the path may not always be clear, but His blessings are assured."
The important thing, Meeuwsen says, is for believers to exchange a life of self-directed complacency for God's plans, which may involve unexpected detours but will never be boring. The Christian life, she asserts, should be a life of surrender and sacrifice. However, she notes, many people get caught up in "a kind of comfortable Christianity in America, because we can."
The author admits that she is no exception. "I have gotten caught up in this sometimes myself," she says, "where we decide whether going to a Bible study, belonging to a church, getting involved in ministry meets a need that we have instead of saying, 'God, what is it You want me to do?' and being willing to pay the price for that."
What Christians should say to God, Meeuwsen asserts, is a willing "yes" to His plans and goals, telling their maker, "I'm willing to pay the price for that, whatever it might be, because it's a privilege to be where You are, involved in what You're doing."
"The 700 Club" co-host says Christians in the 21st Century often have the same mindset as Christ's disciples in the early days of His Earthly ministry. "I think there was that time in the beginning where they thought they were walking with the guy who was going to literally, physically overcome those who were causing chaos in their lives," she says, "and that they were going to reign in comfort with Him."
Meeuwsen says she does not think it was until after Christ paid the price on the cross that His disciples really got the message. What was finally brought home to them – and to modern-day believers – at Calvary was "that this was a life of surrender," she says, "a life of sacrifice – that really, it was a life of dying to ourselves so that we could grab and hold God's dream for us."

© 2005 AgapePress.  All rights reserved.  Used with permission.