Men of the Bible - Book Review
Chris Well

2002

8 Nov

COMMENTS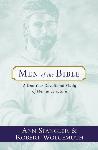 Author:  Ann Spangler and Roger Wolgemuth
Publisher:  Zondervan
While there are many fine devotional books available, sometimes their approach does little to make the Bible more accessible.  With Men of the Bible, authors Spangler and Wolgemuth do a fair job of humanizing the Bible by studying the men who lived it.
Following the model of the best-selling devotional Women of the Bible, which Spangler co-wrote with Jean Syswerda, Men of the Bible revolves around one man per week, each day looking at that man through a different lens.  Each Monday features a short story retelling of his life; Tuesday looks at what the reader can learn from his story; Wednesday features a Bible study on some of the principles learned; Thursday studies the Bible promises the reader can apply to his own life; and Friday shows how the reader can pray in light of this man's story.
 
This pattern, which builds steam toward the end of the week, is quite effective.  Men of the Bible is not for everyone—the narrative device and the questions in the Bible study portion might turn off some readers—but the warm and human approach will be a godsend to many.
Used by permission.  CCM Magazine © 2002