Miracles and Wonders – Book Review
Whitney Hopler

Live It Editor

2003

27 Feb

COMMENTS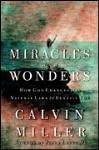 Author:     Calvin Miller
Publisher: Warner Books
No matter how burdened we become by the stresses and disappointments of modern life, most of us still believe in miracles.  Those times when we can see God's hand intervening in our lives are awe-inspiring reminders of His great power and great love for us.  How we love to hear stories of miracles!  So a book like Miracles and Wonders: How God Changes His Natural Laws to Benefit You is bound to entice readers with its title.
Inside, author Calvin Miller delivers the thrilling real-life miracle stories readers are undoubtedly hoping to find--contemporary stories of miracles he has seen firsthand among members of his congregation and those he has researched, as well as stories he preaches on from the Bible.  But he doesn't stop there.  Rather just compiling stories to give readers simple inspiration and comfort, Miller delves into a fascinating study of miracles, helping readers consider such questions as why people are drawn to miracles, why God performs them, and how they can respond to them.
Miller's writing style is a joy to read.  His lyrical phrasing and vivid imagery make the text come alive.  This prevents the book from bogging down in places where Miller discusses theological doctrines and sometimes sounds a tad too academic.
Readers who pick up this book hoping for a light read filled with warm and fuzzy stories will at first be disappointed.  But then, hopefully, they'll be pleasantly surprised to discover more about the deep and important questions behind miracles.  Miller also includes a study guide at the end that readers can use to more thoroughly explore this intriguing topic.

Get 1 Christian Bestseller for FREE, plus FREE shipping.  Click here for details.