Modern Fable Explores How Churches Can Find Purpose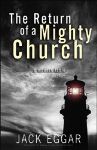 The president of the largest church program for children in America says many churches across the United States have slipped into a purposeless existence.
In his new book, "The Return of a Mighty Church:  A Modern Fable" (Regal Books, 2006), Awana president Jack Eggar uses a fictional story to show that many churches are going through the motions of worship and service. Through the book's parable-like account, he examines principles he believes can turn a stagnant church into an evangelical lighthouse for its community.
"When people galvanize themselves around the gospel of Jesus Christ being the main thing and the transforming power of Christ in our lives," Eggar contends, "and as we carry that out into the community with a singleness of purpose, I think the church will make a formidable impact." But to realize this goal, he says churches must rediscover their purpose, reconnect with their communities, and re-ignite a passion to become a powerful force for God's kingdom.
"My desire with the book," the author and ministry head explains, "is to reach out to pastors, church leaders, and even Christians who are involved in ministry in their churches to help them see that, when a church 'hits on all eight cylinders,' it is a mighty force to reckon with."
Eggar has led Awana Clubs International, a global, Bible-centered children's and youth ministry, since 1999. Awana provides local churches with weekly Christian clubs, programs, and training for students in preschool through high school.


© 2006 AgapePress.  All rights reserved.  Used with permission.