More Romance, Less Suspense in Bayou Justice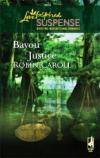 Author: Robin Carroll
Title: Bayou Justice
Publisher: Steeple Hill
Bayou Justice is Robin Caroll's debut novel, released under the Love-Inspired Suspense line by Steeple Hill. In other words, it's very much a Christian novel, with overt Christian themes—salvation, marriage of believers to unbelievers, spirituality in fairly large doses. And, to be fair, I think the book is a fair bit more love-inspired than it is suspense.
Coco LeBlanc is an alligator conservationist (one of the longest job titles I've ever come across, but it's just what it sounds like), as well as a recent convert to Christianity out of her family's voodoo heritage. She still lives with her grandmother and younger sister, though, so her battle against the old ways underpins much of the novel. She's also the discoverer of a very dead body - an old man who'd just threatened to evict her, her sister, and her grandmother from their home.
She's also the former fiancée of Luc Trahan, the old man's grandson. Luc has his own set of motives to kill his granddad, ranging from unethical business practices, suspicion in Luc's father's death, and career differences. And, of course, Luc and Coco fight the timeless battle of Ross-and-Rachel … you know the one, those two crazy kids who can't seem to get it together and get together?
It was hard to evaluate this book, because I'm probably not the primary audience. As a Stephen King, Joseph Finder, James Patterson, secular thriller loving guy, the whole struggling couple thing was a bit of a turn-off. And, I prefer a lot more suspense around the crime in a book, whereas much of the suspense in this book revolved around the relationships.
All that said, it was very tightly written, with realistic characters. They had moments of melodramatic conversation—I read "unequally yoked" far too many times in a normal conversation—but by and large, the characters felt real and fleshed out. Caroll keeps the pace moving well for a character-driven romance, and the elements of suspense were shadowed and cloaked in enough threads to leave you guessing.
I'd heartily recommend this to anyone who enjoys romance, lighter suspense tales, or Christian mysteries. If you're looking to be entertained, to meet some new Louisiana personalities, and be charmed by the locale of the bayou, pick up Bayou Justice. If you're looking for hardcore suspense, you might try Colleen Coble on the Christian side, or Joseph Finder on the secular side.



© 2007 Infuze Magazine. All rights reserved. Used with permission.