Mothers Never Die - Book Review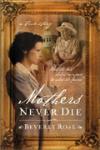 Dr. Beverly Rose, a Harvard-educated clinical psychologist, was forced to abandon her promising career at the age of 34 due to a mysteriously debilitating muscle disease.  This is her true story.
Mothers Never Die takes the reader briefly through the history of Rose's family.  She offers a humorous look at her often perplexingly inconsistent Jewish upbringing in New York.  She recalls the agony of losing her career and physical abilities; and after many years of frustration, she was finally diagnosed with a rare and largely untreatable condition.
Throughout the book, Rose weaves imagined (or dreamed—it's never explicitly clear which is the case) conversations with her deceased mother that eventually culminate in Rose's awkwardly and hesitantly telling her Jewish mother that she has fallen in love with a rabbi named Jesus Christ.
The strength of this book is the story itself; one can't help being moved by a woman who is afflicted with so much pain and struggle, yet possesses such a strong faith.  And certainly, for anyone interested in but unfamiliar with the Jewish heritage, there is a good deal of insight here.
Yet overall, the book feels disjointed, jumping rather awkwardly between past and present, between conversations with the living and the dead, ultimately resulting in the reader's finishing the story still feeling detached and removed from the life story of the author.
Used by permission.  CCM Magazine © 2002