Moving Miss Peggy Resonates With Readers
Susan Ellingburg

Crosswalk.com Contributing Writer

2013

14 Jun

COMMENTS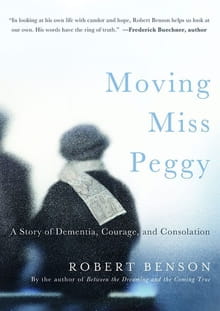 Author: Robert Benson
Title: Moving Miss Peggy
Publisher: Abingdon Press
"How long can I stay there before they will have to put me out on the street?" You are not going on the street, Mom. "You won't let them keep me around too long, will you? I do not want to embarrass anyone."
Moving Miss Peggy is a gentle true-life telling of that moment when families either band together or fall apart. Miss Peggy is the author's mother, a once-vibrant woman fading into the mists of dementia. In this quietly moving story we follow her family as they are forced to walk down a path none of them wants to travel. It is the story of "moving Miss Peggy to a new place to live, to a new way of life, to a new kind of reality." She doesn't go alone—Miss Peggy's family may not physically move with her, but they all have a lot of emotional baggage to pack up. Fortunately, it resulted in the family moving closer together rather than farther apart.
Benson takes us on the journey in calm, comforting prose that is at once loving and clear-eyed. He lets us in on the complicated stuff (like money and legal issues), the awkward stuff (like who has to take Miss Peggy's car keys away), and the emotional stuff (like watching your beloved mother become another person). It could have been a grim read, but thanks to Benson's storytelling ability—and his memories of the delightful Miss Peggy—it's sweet and absorbing. It's also a not-so-subtle kick in the pants for anyone currently ignoring warning signs in members of their own families. That was Miss Peggy's hope when she asked her son to write their story. "You have to tell it for me." She told him. "If we can, we ought to try and help some of those old folks."
In many ways, Miss Peggy's story belongs not just to her but to families everywhere. Who among us does not (or did not) have a friend or relative slowly slipping into dementia or Alzheimer's? (If that time is not now, it will likely come soon enough.) Moving Miss Peggy will resonate with those who have been there, reassure those who are there now, and give the rest a candid look into the difficulties faced by those on both sides of the dementia coin. Benson includes a short list of resources at the end of the book, but his best advice comes by example as he shares what did (and did not) work for his family.
But it's Miss Sara—Miss Peggy's daughter-in-law—who may have offered the best advice of all. "The trick," she said, "is to be sure to keep your eyes open enough to see the essential Peggy underneath all the rest." That's a great strategy for coping with loved ones who are slipping away . . . and pretty good advice for dealing with the rest of us, as well.
*This Review First Published 6/14/2013