New "Haunted Waters" Mystery Takes Kids on Suspenseful Ride
Whitney Hopler

Crosswalk.com Contributing Writer

2005

3 May

COMMENTS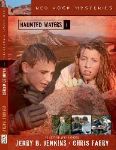 Title:  "Haunted Waters"
Authors:  Jerry Jenkins & Chris Fabry
Publisher:  Tyndale House Publishers
Novelists Jerry Jenkins (the "Left Behind" series) and Chris Fabry ("Left Behind: The Kids"), have teamed up to create a new series for kids ages 8 to 12 called "Red Rocks Mysteries." The series' first book, "Haunted Waters," delivers all the excitement and suspense readers expect from these two authors.
Set in present-day Colorado, "Haunted Waters" tells the story of 14-year-old twins Ashley and Bryce Timberline, who find themselves caught in the middle of a gold heist. They must rely on God for the strength to escape danger, the courage to do the right thing, and the wisdom to help solve the crime. The book's title refers to its climactic scene, when the twins, their stepfather, and young brother nearly perish as their SUV sinks in a frigid lake.
That scene gives kids an exhilarating ride through the twins' adventures – as do many other action-packed scenes throughout the book.  Jenkins and Fabry write crisp, vivid prose that makes readers feel as if they were right in the middle of the action.
The authors also split the book fairly evenly between Ashley's and Bryce's perspectives, taking turns giving each one a chapter to narrate. This clever move makes "Haunted Waters" resonate almost as well with girls as it does with boys. The only aspect that girls might not relate to is the gross humor thrown in from time to time. (For example, when the twins' 4-year-old brother Dylan looks at pieces of a buffalo burger on his plate, he exclaims, "He pooped!").
The only other downside is the fact that Jenkins and Fabry chose outlandishly corny names chose for their characters, dubbing a school bully Boo Heckler and an overweight kid Chuck Burly. Those choices mar the believability of an otherwise credible novel.
Still, Jenkins and Fabry prove in "Haunted Waters," as they did in their "Left Behind" books, that they are masters of suspense. Kids should want to read the book straight through to find out what happens next as Ashley and Bryce deal with a criminal out to kill them, and other more common situations such as grieving, adjusting to a stepfamily, figuring out how to respond to a bully, and facing exams.
"Haunted Waters" keeps readers in suspense right up to the very end, when it delivers a whopper of a cliffhanger that should pique kids' curiosity and motivate them to read the second book in the series.