"Next Door Savior" - Book Review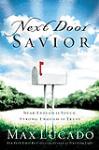 Author:        Max Lucado
Publishers:  W Publishing
Imagine if Jesus pulled up in a U-Haul and moved into the house next door. In "Next Door Savior" this is exactly what happens as one of the most beloved Christian authors of our time, Max Lucado, takes readers on a journey into Jesus' neighborhood.

Lucado does an excellent job of dealing with the dichotomy of Jesus' being both "completely human and completely holy" in a manner that's easy to grasp. And he does this by using his trademark storytelling to offer a fresh view of Jesus as both Savior and neighbor.

The book itself is divided into two parts: "No Person He Won't Touch" and "No Place He Won't Go," and the lack of transitions between the chapters in these sections occasionally makes the book choppy. But each chapter is like a small sermon with a very similar structure that could easily stand on its own. Though this sermon-esque style makes for easy reading, the end result is much more like individual devotionals than chapters.

"Next Door Savior" is a unique, new addition to Lucado's exhaustive literary catalog and it certainly is worthwhile reading. When explored, the concept of Jesus as one's neighbor allows for an exciting discovery into who He is in a Christian's life.

© 2003 CCM Magazine. Used by permission. 
Get 1 Christian Bestseller for FREE, plus FREE shipping.  Click here for details.