Rick Tramonto Tells All in Scars of a Chef
Susan Ellingburg

Crosswalk.com Contributing Writer

2011

21 Mar

COMMENTS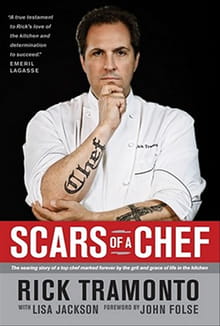 Author: Rick Tramonto (with Lisa Jackson)
Title: Scars of a Chef
Publisher: Tyndale House
In recent years cooking has become another sport with its own stars, battles, and networks to prove it. For food aficionados, going behind the kitchen door for an insider's look at the life of a chef is right up there with scoring reservations at this month's hot-spot eatery.
The story of Rick Tramonto's "rags to riches" journey from high school dropout to award-winning chef does not disappoint. Rick grew up in the kitchen, learning his way around a pasta pot from his Italian grandmothers. Food equaled comfort—especially when his volatile parents were on the outs. He tells us they "didn't fight and try to kill each other every day. It was more like they argued every day, fought every week, and tried to kill each other every few months."
Living in that atmosphere, it's no wonder young Rick turned to drugs to dull the pain. When Rick's father went to prison for embezzlement, Rick decided to cut his losses and make some money. So it was that sixteen-year-old Rick who found himself working at Wendy's Old Fashioned Hamburgers, where he had an epiphany. "… for the first time in my life, I found something I was actually good at. The work didn't even really feel like work. Everything just came natural to me."
That doesn't mean it was easy. Rick had no high school diploma, no culinary school degree ... nothing but a passion to learn and a willingness to work. He devised his own apprenticeship program and worked his way through a multitude of kitchens, styles, and techniques. From his home town of Rochester, NY to Manhattan, across the pond to the English countryside and back again, Rick went wherever and did whatever it took to succeed. And he did succeed—winning, among other things, four stars (for his Chicago restaurant Tru) and a James Beard award. He's made TV appearances, cooked for celebrities and dignitaries alike ... all the ingredients of an all-star chef's life.
But as many have found before him, Rick discovered that success doesn't equal peace. Reeling from professional failure and personal tragedy, Rick flipped on the radio one day and heard a message that would change his life. "God had always been eager to satisfy my inner hunger," Rick says, "but in a sense, he had to get me out of the kitchen first."
For foodies, Scars of a Chef is an excellent choice. For those who are not completely enamored of all things culinary, it might get a little slow. Like a good meal, a good book needs variety; after a while I found the many restaurant opening stories all ran together. Still, while it may not be worthy of a Michelin star, Scars of a Chef is definitely worth dipping into. Especially if (as my review copy promised) recipes created by Rick Tramonto are added.