"Not Even a Hint" - Book Review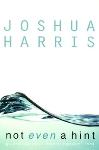 Author:         Joshua Harris
Publishers:   Multnomah Publishers
Joshua Harris, best known for writing "I Kissed Dating Goodbye" (Multnomah), tackles the tough subject of lust in his third literary outing. Harris candidly writes about his personal struggles and also recounts stories and insights from others who have written letters to him.
The simplicity of his language and the organized chapter structure make for an easy read. In addition, the fact that he's done his research is evidenced by the resources he quotes (C.S. Lewis, John Stott, Jerry Bridges and others) and the practical advice he offers.
This particular message of hope is directed to everyone — male, female, married or single — who struggles with lust or any habitual sin. One part theology, two parts testimony and a generous dosage of biblical teaching, "Not Even a Hint" provides valuable guidance on the path toward holiness.
© 2003 CCM Magazine.  All rights reserved.  Used with permission.  Click here to subscribe.