"Overcoming Addictive Behavior" - Book Review
Janet Chismar

Crosswalk.com Contributor

2003

16 Nov

COMMENTS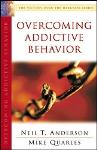 Author:      Dr. Neil T. Anderson and Mike Quarles
Publisher:  Regal Books

As one who has traveled the road of addiction and recovery, I can attest to the wisdom found in "Overcoming Addictive Behavior." Neil Anderson and Mike Quarles base their recovery principles on Scripture and the power of God.

Once the drinking or drug use ends, the book says, each person needs to find a new identity and fresh guidelines to direct his or her path. And Anderson and Quarles show readers how to build a foundation based on truth.

For the Christian who struggles with issues of guilt and shame, this book is especially valuable. The authors use verse after verse to show that Jesus forgives and heals. Someone just beginning to recover might need additional, practical advice on how to abstain. But the bottom line is that all transformation begins and ends in Christ.

© 2003 CCM Magazine.  All rights reserved.  Used with permission.  Click here to subscribe.