"Passion" Book Tops One Million Copies Before Movie Opens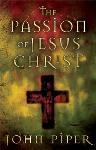 Wheaton, IL — Even before Mel Gibson's film opens on Ash Wednesday, more than one million copies of the book "The Passion of Jesus Christ," by Minneapolis pastor Dr. John Piper, will be in print.  Released on January 9 of this year, 700,000 copies have already been sold by publisher Crossway Books, with demand continuing to build.

Subtitled "Fifty Reasons Why Jesus Came to Die," Dr, Piper's book is unique in that it focuses on why Jesus suffered and died and what this means for every person. The book is also unique in addressing the plague of anti-Semitism and the true purpose of the cross.

"The response to the book has been amazing," notes Crossway president Dr. Lane
Dennis.  "My sense is that this is just the first wave — that a second wave will hit when the movie opens at theaters, and a third wave will hit just before Easter. But the content of the book is so powerful, I expect it to become an enduring classic."

With the Passion book available throughout both Christian and general
market outlets, Crossway also plans to launch a Passion website, www.thepassionofjesuschrist.org, to be up and running when the movie opens.