"Patterns: Ways to Develop a God-Filled Life" - Book Review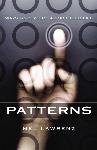 Author:     Mel Lawrenz
Publisher:  Zondervan

The pastor of a mega-church outside of Milwaukee sets out to explore biblical patterns for living in his new book. And the results are nothing ground-breaking: Mix the fruit of the Spirit with some devotional practices like worship, prayer and fellowship, and you've got a recipe for a sin-smashing Christian life. This is the bread and butter of Christianity, and if you didn't know this, you've been sleeping through sermons.

But of course, we could all use a good reminder. The book doesn't approach Oswald Chambers magnitude, but it does cover the basics with short chapters, interesting stories, and a style that holds one's attention.

Reflective questions at the end of each chapter give the option of extra application. And for the most part Mel Lawrenz keeps things fresh, making "Patterns" an acceptable next-step book for the seeker who's found what he's looking for but isn't ready for excessive church-speak.

Used by permission.  CCM Magazine © 2003   Click here to subscribe.