"Profit at Any Cost?"- Book Review
Whitney Hopler

Crosswalk.com Contributing Writer

2003

26 May

COMMENTS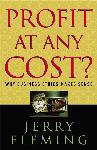 Author:     Jerry Fleming
Publisher: Baker Book House Company

"Profit at Any Cost?: Why Business Ethics Make Sense" isn't just another book that reminds people of how important ethics are -- in every situation.  Rather than simply discussing biblical principles on ethical behavior, the book delves into the process of how ethical businesspeople and companies actually end up more profitable than unethical ones in the long run.  Although, ideally, people should be motivated to do the right thing simply to please God, many businesspeople focused on the "bottom line" may be more interested in how ethics can benefit them and their companies.  This book will explain it to them.  It's a fascinating study, and a convincing one, too.

Author Jerry Fleming writes with impressive candor about his personal experiences on both sides of the ethics fence.  First, he courageously describes how, as a young executive, he foolishly followed a supervisor's suggestion to manipulate their manufacturing company's finances to try to avoid an expensive lawsuit.  Although Fleming was able to carry out the plan to make the company appear bankrupt, his apparent success actually cost the company more than it gained, causing expensive employee turnover because people no longer trusted their leaders.  Later in the book, Fleming modestly discusses how he and others in a company he founded decided to do the right thing when facing a heart-wrenching decision regarding health insurance for employees. Although it looked like they would have to incur severe financial losses to provide the proper insurance (due to one person's astronomical medical expenses), they decided to make the sacrifices necessary to take care of their employees.  After that decision, an insurance company who admired their ethics used their community service reserves to give Fleming's company an incredible deal.

"Profit at Any Cost?" is full of many other thought-provoking, real-life examples of how ethics makes good business sense.  The scenarios it presents should motivate even the most hardened businessperson to consider making ethics a priority.


Get 1 Christian Bestseller for FREE, plus FREE shipping.  Click here for details.