Q&A w/ "A Delirious Summer" Author Ray Blackston – Part III
Baker Publishing Group

2004

17 May

COMMENTS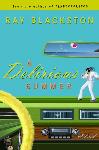 History and Writing:
What did you learn in between writing the two books? How have you developed your craft?  I learned that each book is a marathon run on a new route, and the fact that you completed one marathon earlier does not impress your laptop. In other words, you have the feeling of "starting over," but with that comes the knowledge that "I did it once, and I can do it again." Working with some of the same characters in the second book helped too, as I already knew their quirks and mannerisms.
Are you a seat of the pants writer or do you plot out your books?  Seat of the pants, seat of the gym shorts, seat of the blue jeans. I wing it like my friend Sandy makes gumbo – just toss things in and see what works. I've never plotted anything beyond writing on a single sheet of paper, "This is where I might like this story to go between now and seven months from now." In this second novel, "A Delirious Summer," the character of Alexis just leaped out of the screen of my laptop and told me that she was going to steal every scene she's in. And she does. She's the most high-energy girl I've ever met, and the story's narrator, Neil, can barely keep up with her.
"A Delirious Summer"
Had you always planned to write a sequel?  Or was this something the publisher requested after seeing the success of "Flabbergasted"?  Actually I saw two books after finishing the first. The strange part is that I envisioned the third book, which I just started, more clearly than the second. So it took lots of "think time" to plan it all out.
Where can readers find "Delirious" and "Flabbergasted"?  Any Christian bookstore or mainstream chain should have it.
"Flabbergasted"
How was it received in your hometown?  Well, in a community where the churches outnumber the bars by a 20 to 1 margin, word of mouth spread quickly that there was a novel out that began in their fair city.  I've had lots of encouraging words from the home crowd, and a few concerns over whether a certain character is really someone they know. (And I thought I'd disguised them so well. ...)
 
Personal
Music you're currently listening to?  Third Day, Allison Krauss, and Duran Duran.
Film you've most recently seen?  "Hidalgo."


For more information about Ray Blackston or "A Delirious Summer," visit  www.rayblackston.com or   www.revellbooks.com.