Rain Song an Astonishing Debut for Wisler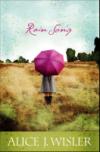 Author: Alice J. Wisler
Title: Rain Song
Publisher: Bethany House
Nicole Michelin leads a simple life. During the week, she teaches school, feeds her fish and spends time with her grandmother, Ducee, and Aunt Iva. She writes an Internet column called "Something Phishy" and takes care of her aging, alcoholic father. Occasionally, she makes pineapple chutney from an old family recipe.
Nicole also sleeps with her cloth Japanese doll, Sazae, however—and obsesses about things like her niece leaving fingerprints on her 55-gallon aquarium. She's also afraid of motorcycles and airplanes—especially airplanes. And, although she once lived in Japan as a child, she now has nothing whatsoever to do with that country—even in her thoughts. Something happened there—something bad. Nicole's mother also died there, which is how Nicole and her father ended up in Mount Olive, N.C., where he started drinking.
When Nicole receives an e-mail letter from a man named Harrison Michaels, she can't get him out of her mind. Even though she's just broken up with her boyfriend, Richard (he wanted marriage; Nicole didn't), she writes Harrison back. Soon, the two have struck up a friendship. Nicole learns that Harrison lives in Japan, of all places. Soon, she'll also learn that Harrison holds the key to her childhood. He knew her as a child—and he knows more about that period of her life, and her family, than she does.
Alice J. Wisler has written an astonishing debut for a first-time author. The daughter of missionary parents, she grew up in Japan, so she is definitely following the writer's dictum to "write what you know." What is surprising, however, is that unlike most Christian novelists—who put the message far above the medium—Wisler writes with a tremendous amount of talent.
Her prose is good—beautiful, at times. Although it doesn't consist of heart-pounding action (it's not a thriller, after all), the story flows and engages the reader on many levels with numerous thought-provoking scenes and situations. Wisler's characters are also real—very real. Like all the other members of her family, Nicole is flawed. But she is lovable, and readers will enjoy her journey toward healing and love.
Ducee, Nicole's grandmother, offers wise advice from a Christian perspective throughout the book, which creates the Christian undertones, and even a gentle message about taking a step of faith. Likewise, Grable, Nicole's cousin, is likeable yet imperfect.
Those who prefer thrillers and action-packed novels may find Rain Song a little slow for their taste. It's literary writing—not commercial—although its appeal should be quite broad. But those who appreciate good writing, interesting characters and a love story set within a subtle Christian framework will definitely enjoy this book.