Reality Shift - Book Review
Whitney Hopler

Crosswalk.com Contributing Writer

2002

1 Nov

COMMENTS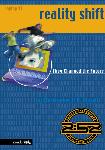 Author:  Christopher P.N. Maselli
Publisher:  Zonderkidz
What would you do if you had a laptop that would change the future as you write it?  That's the intriguing concept of Reality Shift:  They Changed the Future.  And, happily, author Christopher P.N. Maselli handles the idea well, delivering a book that's a real page-turner for boys ages 8 to 12.
The action--including play-by-play football game descriptions and even a bank robbery--is fast-paced and exciting, so the book is likely to hold the attention of even the most active boy.
And the book's message about the awesome power of words comes through loud and clear.  When a youth group pastor character references biblical passages about God speaking creation into existence and Jesus serving as the Word incarnate, he reminds readers just how creatively powerful words can be.  And 13-year-old hero Matt Calahan's words--typed into the laptop as the stories he loves to write--don't just sit there onscreen.  They make things happen.  A friend's dad loses his job because of Matt's careless words; Matt leads his football team to victory after writing the outcome.
Readers may wonder why Matt and his friends never use the power at their disposal to try to change much more about the world.  After all, writing about neighbors and football games seems so trivial compared to helping to solve major problems such as disease and poverty.  But those issues might concern adults more than boys, and the lessons the characters can learn are the same no matter what they try to change about the future.  Plus, there are more adventures to come after this first installment in a planned series.  And if this book is any indication, they're bound to be exciting.