Renee Riva Goes Back to the Future in Heading Home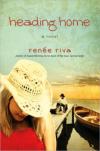 Author: Renee Riva
Title: Heading Home
Publisher: David C. Cook

In this final installment of the Saving Sailor trilogy, Renee Riva takes her readers back to the future. Little A.J. Degulio is all grown up and has finally returned to her childhood home of Indian Island after eight years in Italy with her boisterous family. She's ecstatic about reuniting with two old friends—Sailor, her dog, and Danny Morgan, her best buddy from long ago. But things have changed.

Quirky, imaginative, and ever hopeful, A.J. (Angelina Juliana is just too feminine for such a tomboy) discovers that Danny, too, has grown up. Their growing attraction for one another endures a couple of significant threats, not the least of which is her meddling family. Think "My Big Fat Greek Wedding"…yeah, they are that kind of crazy, and that kind of loving.

Together, A.J. and Danny must learn how to hear God's voice directing them through the maze of conflicting choices and opinionated parents. Ministry is important to both of them, but their plans appear to be heading in opposite directions. How do they reconcile their differences, and can they serve God together?

A.J. tells the story, giving us a sometimes hilarious perspective on events and people. Her personality shines through her appreciation of the island's beauty, her opinions on a certain other female who makes a play for Danny, and her love for her boisterous Italian-Greek family. Yes, they are both nationalities, and yes, it matters.

Riva's writing has a light, airy feel. The story is just fun to read, primarily because we see it through A.J.'s viewpoint, and she's a hoot. She intersperses references to Italian and Greek culture with a Southern twang that almost hurts the ears.

Maybe because it fits in the teen lit category, some issues were dealt with a bit unrealistically. For instance, has 22-year-old Danny really been waiting since he was 14 for A.J., whom he hasn't laid eyes on since she was 10, to grow up so he could marry her? Their age difference and the ease of their renewed relationship seemed a bit far-fetched. One other example: Catholics and Baptists have more theological differences to reconcile than merely which church building to use for a wedding. I thought Riva brushed over a potentially intriguing subplot superficially.

But don't let those minor points discourage you. Heading Home will charm and amuse. Riva isn't writing a mystery—the plot wraps up happily, as the reader would expect. But don't mistake the lack of suspense as lack of skill or depth. Teens and young adult readers will appreciate the characters and the journey of A.J. in particular. The book is romantic and sweet, a delightful conclusion to a charming series. It stands alone well even as the conclusion of a bigger story. Older readers should find it enjoyable as well.


**This review first published on August 16, 2010.