"Shoo Fly Pie" - Book Review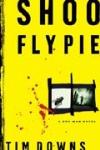 Author:      Tim Downs
Publisher:  Howard Publishing
Kathryn Guilford does not believe her childhood friend could have  possibly committed suicide, so she entrusts the help of Dr. Nick Polchak, the only person she trusts to be objective.
Dr. Polchak is a forensic entomologist whose moniker is "the bugman." With an intriguing past himself, he's had difficulties working with the law and was sent to a small community to do research and stay out of trouble. Now, while investigating the case, Nick and Kathryn uncover many secrets Kathryn is not sure she is ready to hear.
"Shoo Fly Pie" is an entertaining introduction into the world of forensic entomology that is informative, educational and entertaining. Those who are fans of the hit television show "CSI," especially fans of the character Gil Grissom and his fascination with bugs, should enjoy Tim Downs' first novel that could become the first in a series of books that will keep readers eagerly turning the pages.

© 2003 CCM Magazine.  All rights reserved.  Used with permission.  Click here to subscribe.