"Single Focus: Understanding Single Adults" - Book Review
Whitney Hopler

Crosswalk.com Contributing Writer

2003

30 May

COMMENTS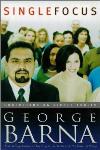 Author:     George Barna
Publisher: Regal, from Gospel Light

Too often, married adults lump single adults together into one massive group, missing out on the unique characteristics of each type of single person and misunderstanding how best to relate to them.  So renowned research guru George Barna has written a new book to help people understand this booming population group.  In "Single Focus:  Understanding Single Adults," Barna does what he does best, providing lots of fascinating data from extensive research.  He explores different types of singles – "the never-been-married, the divorced, the widowed, single parents and the separated."

All the data that Barna presents is truly interesting, covering topics such as the spiritual beliefs and practices of singles, how they view themselves, and their lifestyles. But after awhile, the data becomes overwhelming because it's not broken up with personal examples of individual single people.  And the book's text, which begins with the hope of fascinating reading, grows dry due to the lack of personal examples.  Midway through, readers could begin to feel like they're reading a statistical report rather than a book, and that's really a shame, because Barna has included such great information.  Why he didn't think to pull some examples of individual people out of his wonderful research is a mystery, but the book suffers greatly because of it.

Barna spends most of the book studying the profiles of single adults.  It isn't until the last chapter that he gives practical tips for ministering to singles.  But the ones he does give are quite helpful.

Church leaders could benefit the most from this book; they would likely have more patience than laypeople to wade through all the data, and their newfound understandings of single adults could significantly boost their ministries to this important – yet too often overlooked – group of people.


Get 1 Christian Bestseller for FREE, plus FREE shipping.  Click here for details.