Sisterchicks on the Loose – Book Review
Jessica Robin

Book Reviewer

2003

1 Oct

COMMENTS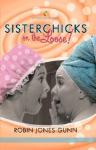 Author:      Robin Jones Gunn
Publisher:  Multnomah Publishers

Loyal readers of the "Christy Miller," "Sierra Jensen" and "Glenbrooke" series will be thrilled to know that Robin Jones Gunn is back with "Sisterchicks." Gunn has written for teens and 20-somethings in the past, but this series will be most appreciated by women in their 30s and 40s.

The first title, "Sisterchicks on the Loose," follows best pals Penny and Sharon on a vacation to Finland. Penny is hoping to learn more about her heritage, and she drags Sharon along with her for a needed respite from their husbands, kids and the hectic pace of daily life. The writing is typical Gunn — lively, with descriptive conversations, scenes and characters who feel like friends.

Also poignant is the text's natural relevance to living out every day and all its adventure with Christ. Penny and Sharon are vastly different in personality and life experience, but out of their sisterly bond grows life lessons and spiritual insights. With this book, Gunn seems on track to create yet another series packed with memorable stories and characters.

Used by permission.  CCM Magazine © 2003  Click here to subscribe.

Get 1 Christian Bestseller for FREE, plus FREE shipping.  Click here for details.