"So You're Thinking About Homeschooling" – Book Review
Whitney Hopler

Live It Editor

2003

7 May

COMMENTS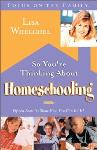 Author:     Lisa Whelchel
Publisher: Multnomah Publishers

Anyone who's considering homeschooling could benefit from Lisa Whelchel's new book, "So You're Thinking About Homeschooling: Fifteen Families Show How You Can Do It!"  Whelchel, who married and had three children right after her televison sitcom "The Facts of Life" ended, homeschools her son and two daughters.  But she doesn't rely just on her own experience for the book.  Instead, she took the time to do impressive research, interviewing 1,000 people via e-mail and speaking to 100 of them on the telephone.

She has used that material to create an engaging book that shows how diverse homeschooling families can be (even working parents, single parents, and grandparents homeschool) and how flexible homeschooling methodologies can be, while shattering homeschooling stereotypes.  And she has packed the book full of great ideas for readers to consider as they think and pray about their children's education -- whether God leads them to homeschool, or choose public or private schools.

Whelchel has created 15 composite families from her research results, and tells their stories herself, as if she were a friend leading readers on a tour of each of their homes.  While this format does work -- thanks to clean organization and Whelchel's appealing, personable style -- it's not the best.  It would have been better for Whelchel to select various families and present their stories in their own words, using their own unique voices and real names and situations, rather than creating composites and presenting them herself.  So much is conveyed by a person's own direct communication; so much is lost by trying to mix distinctive families together to create a composite "type."

Still, the book should prove helpful to just about anyone who's wondering whether he or she should explore the world of homeschooling.

Get 1 Christian Bestseller for FREE, plus FREE shipping.  Click here for details.