Song of Saigon - Book Review
Whitney Hopler

Crosswalk.com Contributing Writer

2003

13 Feb

COMMENTS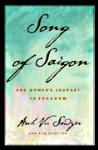 Authors:    Anh Vu Sawyer and Pam Proctor
Publisher:  Warner Books
Living in the grip of an ongoing war against terrorism, we Americans have come to discover that war has no boundaries, and that threats to our safety and security can come about without warning.  Anh Vu Sawyer writes movingly of just such feelings in her memoir, Song of Saigon: One Woman's Journey to Freedom.  Even though the book centers around the Vietnam War, it shows the timeless truth of how God can help anyone in any circumstance discover freedom.
Although Song of Saigon: One Woman's Journey to Freedom is a work of nonfiction, it reads just like a novel--full of riveting, and often thrilling, descriptions.  Sawyer tells the history of her Vietnamese family beginning with her grandparents, then through to her parents, in part one.  In part two, she switches from a third person narrative voice to first person, relating her own adventures in both Vietnam and America.  Sawyer and her family were some of the last people to escape from Saigon just as the city fell to the Communists in 1975.  And more than two decades later, she returned on a humanitarian mission. 
Throughout the book, Sawyer writes with unflinching vulnerability and honesty, making readers care about the people in each story she shares.  But even more importantly, the book creates insightful snapshots of the process of moving from bondage to freedom in various ways.  Sawyer's grandfather overcomes a harrowing opium addiction, many of her family members find refuge from their country's political destruction, and Sawyer and her husband find new strength for their troubled marriage.  And woven throughout each story is the grander story behind it all--the spiritual freedom that Jesus Christ brings to Sawyer and many of those she loves.