"Soul Food & Living Water" - Book Review
Whitney Hopler

Crosswalk.com Contributing Writer

2003

4 Apr

COMMENTS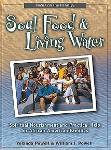 Authors:   Yolanda and William Powell
Publisher: Institute for Black Family Development/Moody Publishers
"Soul Food & Living Water" lives up to its clever title by delivering nourishing principles to African-American families who may feel starved or parched in various areas of their lives. The book, written by African-American spouses Yolanda and William Powell, courageously seeks to expose and minister to the tragic dilemma that many African-American families experience: they faithfully participate in church worship and activities, yet don't connect their faith to all aspects of their lifestyles. "As a people," the Powells write, "our survival training often has conditioned us to try to fake it until we can make it!" The answer, write the Powells, is a greater reliance on an internal faith rather than a largely external one.
Sometimes the book's approach is too general as it strives to help readers achieve that noble goal, however. While the nuggets it serves up are indeed nutritious (sound biblical advice on spiritual disciplines, marriage, parenting, and relationships with friends, extended family, and neighbors), many lack the distinctive flavor of addressing issues uniquely important to African-American culture.
Sometimes the book does this well, such as when it discusses hip-hop music and culture, analyzing the subject thoroughly and providing lots of practical ideas on how parents can respond to it. But, although recent statistics show that most African-American kids live apart from their fathers, the chapter on Christ-led husbands doesn't discuss the crucial issue of commitment. It does cover important issues like what it means to be a servant-leader in marriage, but the problem in many African-American households is that husbands and fathers leave, so they're not even around to consider how to lead their families. And the book doesn't discuss the hot-button issue of financial debt in much depth, either.
Still, there's a lot of wisdom here for readers to feast on, including some especially creative morsels (such as "talking in Technicolor" and "the love-and-conquer hug"). And the book is written with such sincerity and enthusiasm, it can't help but motivate African-American readers to seek revival in their families so they can thrive as God intends.

Get 1 Christian Bestseller for FREE, plus FREE shipping.  Click here for details.