Spanish Civil War Highlighted in "Valley of Betrayal"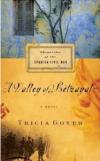 Author: Tricia Goyer
Title: "A Valley of Betrayal"
Publisher: Moody Publishers
Before World War II, another war occurred. Confined to a single country, it drew in fighters from all over the world. Some of them, namely Germany, used this conflict as a testing ground for its revived military and practice for the larger offensive to come. The Spanish Civil War, overlooked by most history books, was in many ways, a warning of the brutality to come.
Sophia Grace doesn't know any of that, nor does she care. She left her native Boston to travel to Spain to marry her fiance, Michael. After a month of travel, her dreams almost collapse at the French/Spanish border. The border is closed and the guards refuse to let foreigners cross. When opportunity to sneak across the border presents itself in the form of Wade Block, a New York reporter, she takes it and crosses into a nightmare.
Seattle-based high school teacher Philip Stanford has two special gifts. One, he is a fast runner. Two, he can coach others to run just as fast. He's in Barcelona to coach his friend Attis Brody in the Workers Games. But dreams of medals remain just that when war between Franco's forces and Spanish patriots explodes. Attis, a self-avowed fighter of Fascism, refuses to desert the Spaniards and return home to his wife and safety. Philip, ready to leave the fighting, can't leave his friend behind. The unwilling warrior finds himself in Barcelona's streets, dodging sniper bullets, building barricades, and watching madness unfold around him.
Sophia arrives in Madrid and finds Michael. But her hoped-for marriage doesn't materialize as fast as she'd hoped. He's distracted by the conflict his people are embroiled in. He's also a target as well. In a largely illiterate society, his photographs convey clear messages to the struggling underclass. Even though the fighting hasn't reached Madrid, Michael is worried for her safety. Or so he claims. Sophia has noticed an attraction between her love and the Spanish beauty Maria. Even though Michael denies any interest, doubt harasses Sophia.
As time passes, Philip and Sophia find themselves drawn into the struggle. Their original dreams die along with fighters on both sides as the war continues to grow in scope and intensity. Neither may live long enough to see their adopted fight through to the end.
Award-winning author Tricia Goyer moves from her familiar World War II novels to a lesser-known war: the Spanish Civil War. With her meticulous research and her writing talent, she brings life to a Spain most people don't know about; the repression of the lower classes by the landed few, in conjunction with the Catholic Church, the German military support of Franco's forces, and the blind hatred that fueled atrocities on both sides. "A Valley of Betrayal" is book one in the "Chronicles of the Spanish Civil War" series.





© 2007 Infuze Magazine. All rights reserved. Used with permission.