"Standing for Christ in a Modern Babylon" - Book Review
Whitney Hopler

Crosswalk.com Contributing Writer

2003

6 Jun

COMMENTS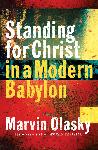 Author:     Marvin Olasky
Publisher: Crossway Books

Many evangelical Christians have been dismayed and angered when portrayed inaccurately in the media.  And, although plenty of faithful journalists serve God in their fields, it does seem like many others in the mainstream media are bigoted toward Christians.  It's become acceptable, and even fashionable, for Christians to bash the media.  But rather than complaining, we can actually do something about it, writes World magazine editor-in-chief Marvin Olasky in his new book "Standing for Christ in a Modern Babylon."

Press attacks are actually opportunities for Christians to get Christ's message out to a world that's paying attention, he writes.  Instead of viewing nonChristians as enemies, we should sincerely listen to them, then use our understanding to present God's truths within a framework they can understand.  A positive, relevant stand for Christ -- backed up by a life truly lived for Him -- has great power to transform a culture, the book says.  That's a valuable message that needs to be heard.

Olasky has some brilliant ideas, but unfortunately, the way in which he expresses them is often too convoluted to clearly communicate his message.  Numerous phrases throughout the text sound a bit odd, almost as if Olasky is trying too hard to be witty when it would work better to opt for simplicity instead.  And his reference to the freedom-first culture in the United States today as a "liberty theme park" as opposed to ancient Israel as a "holiness theme park" throughout one whole chapter is also distracting for readers, because the theme park concept doesn't really relate to what he's trying to say.  Simply writing "society" or "culture" would have been much better.
Get 1 Christian Bestseller for FREE, plus FREE shipping.   Click here for details.