Still Bored in a Culture of Entertainment - Review
Whitney Hopler

Crosswalk.com Contributing Writer

2002

20 Nov

COMMENTS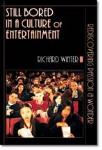 Author:     Richard Winter
Publisher: InterVarsity Press
Technological advances have given us access to more information and entertainment than people have enjoyed during any other period in history.  Yet, many people are more bored than ever.
Richard Winter's fascinating new book, Still Bored in a Culture of Entertainment: Rediscovering Passion & Wonder, explores the reasons why people struggle with boredom, and how they can break free from its grip on their lives.  The book is crammed with intriguing research findings on the topic, from historical quotes to the results of modern sociological studies.  On nearly every page, readers can learn something new about boredom.
There's so much information, readers get the feeling that Winter could have written several books on various aspects of boredom and its effects on people's lives.  The book's title leads readers to believe that the focus is just on our entertainment-oriented culture, but actually, Winter discusses everything from violence, pornography, and extreme sports to history and theology from medieval times through the current postmodern era.
The extensive research is impressive without weighing the book down.  But the book's organization could have been a lot cleaner.  Sometimes the chapters seem like a hodgepodge of interesting ideas that don't fit together well into a coherent whole.
Overall, however, Still Bored in a Culture of Entertainment: Rediscovering Passion & Wonder accomplishes one of the greatest things a book can do:  It motivates readers to think about its topic and examine their own lives after they finish reading.  In so doing, it becomes a tool God can use to transform lives.