Take Charge of the Change - Book Review
Whitney Hopler

Live It Editor

2003

22 Jan

COMMENTS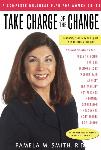 Author:     Pamela M. Smith, R.D.
Publisher: Zondervan
Menopause is hardly a positive topic among women, but Take Charge of the Change is so upbeat that it motivates women to turn their midlife blues into new opportunities.  Author Pamela M. Smith, a registered dietician who has written many previous wellness books, encourages readers to think of menopause not as a time of depressing endings (the end of youth, the end of childbearing, etc.), but as a time of assessing their lives anew and moving forward into healthier futures physically, mentally, and spiritually.
Smith is just the type of guide women navigating menopause could use on their often tumultuous journeys.  She fills each chapter with an abundance of reliable, detailed information on how to prevent and counteract symptoms such as insomnia, hot flashes, weight gain, headaches, decreased libido, anxiety, memory loss, and irritability.  She discusses hormone replacement therapy and even provides a 12-week nutritional plan designed to keep hormones in proper balance.  If it relates to menopause, it's likely covered in this comprehensive book.  And not only does Smith pack the book with useful information, she also includes relevant examples of clients who are going through menopause and discusses her own current struggles with "the change".
Readers would probably get the most out of Take Charge of the Change by using it as a reference book to deal with one aspect of menopause at a time rather than trying to tackle everything at once.  While Smith's advice is valuable, it can become too overwhelming for readers to try to incorporate it all simultaneously.  Readers who try to do so could easily become discouraged and give up.  So take this book one step at time, but do take it--it's bound to help anyone in the throes of menopause.