"Thanks a Million" Urges Readers to Evangelize
Allie Martin

AgapePress

2006

16 Oct

COMMENTS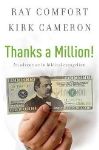 A popular Christian television personality is trying to equip believers to share their faith biblically and effectively.

In his new book, "Thanks a Million:  Adventures in Biblical Witnessing," evangelist Ray Comfort, co-host of the award-winning "Way of the Master" TV show, writes all about real-life witnessing experiences with a variety of people, from atheists to gang members to psychics and more.
Through that ministry, Comfort and his "Way of the Master" co-host, actor Kirk Cameron, try to teach people how to share their faith using God's laws in the Bible to help unsaved individuals come to an understanding of their need for redemption from sin. But, while their teaching series is popular, the Christian author and teacher says many believers' primary concern is not with that method's basis in scripture but with what they see as "tangible proof" of its effectiveness.
"Some people say to me, 'Hey, what statistics have you got to prove this really works?'" Comfort notes, "and I have to say to them, 'Don't go by visible results as a criterion to judge whether or not this is good. Go to the Bible and see is this what Jesus did." As founder of "Way of the Master" and his other ministry, Living Waters, he always seeks to point people toward Scripture.
The question Christians should be asking is not whether someone can show them results but whether or not this way of witnessing is biblical, the evangelist says. After all, he notes, "we can look at mega-churches and say, 'Well, there's statistical, visible results,'" but all the while, "many of those churches are filled with people who don't share their faith, and they live just like the world."
According to Comfort, many American believers are failing to follow a biblical model of the Christian lifestyle. "The contemporary church should be like the church in the Book of Acts," he contends, "but when you read the Book of Acts and compare it to the modern church, which is so self-indulgent – with the prosperity teachings, and 'what can I get from God' [attitudes] – there's a huge disparity between the Book of Acts and the modern church."
One of the reasons for this, the ministry leader says, is that the modern church in America is "filled with 'tares among the wheat' or 'false conversions,' sitting among God's people." And the reason there are so many of these "tares" in the body of Christ, he insists, "is because we haven't preached the biblical gospel."
Comfort says that is one reason why he founded his ministries, Living Waters and "The Way of the Master" – to teach Christians how to communicate the complete, biblical gospel so those to whom they witness can be genuinely converted and can enjoy assurance of their salvation as well as a vibrant, truth-based relationship with Jesus Christ.

© 2006 AgapePress.  All rights reserved.  Used with permission.