Thanksgiving - A Time to Remember - Book Review
Whitney Hopler

Crosswalk.com Contributing Writer

2002

26 Nov

COMMENTS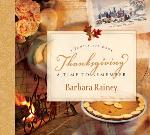 Author:     Barbara Rainey
Publisher: Crossway Books
For many people in our culture today, Thanksgiving has become little more than a holiday to gorge on food and watch football.  So a book like Thanksgiving: A Time to Remember is a welcome reminder of the reasons why we celebrate.
The book presents fascinating details about the Pilgrims' history, explaining why they decided to make their voyage and what happened during their first few years in America.  These Pilgrims seem much more human than the remote and austere Pilgrims most of us learned about in school.  We see their passion in the story of two young men dueling over a beautiful 15-year-old girl.  We understand their fears when we read the stomach-turning description of conditions inside the Mayflower--no privacy, fresh air, or proper sanitation.
But most importantly, the book helps us more fully appreciate the sacrifices the Pilgrims made for freedom--braving a harsh climate and much disease, rationing food to survive through a famine, working to establish friendships with Native Americans and creating a lasting form of government (through the Mayflower Compact).  The book also includes numerous interesting sidebars on topics such as choosing gratitude over grumbling and how the practice of feasting originated.
Rainey writes that she intends the book to be a tool parents can use to read the stories aloud to their children on Thanksgiving.  Some portions of the text have been set in large type to break out to read to young children who might be bored by the entire story.  That's helpful, but even the large-print text is still too long and detailed to hold the attention of a child younger than at least 6 years old.
In the book's epilogue, Rainey shares her family's Thanksgiving traditions and encourages other families to adopt traditions of their own.  Also included with the book is an audio CD of seven hymns appropriate for Thanksgiving.
Buy Thanksgiving now at www.lifewaystores.com!