The Artist's Daughter Paints a Picture of Grace
Susan Ellingburg

Crosswalk.com Contributing Writer

2013

18 Mar

COMMENTS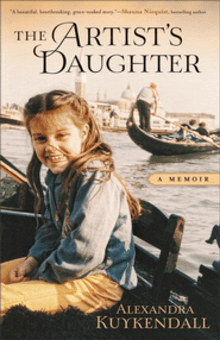 Author: Alexandra Kuykendall
Title: The Artist's Daughter
Publisher: Revell
Alexandra Kuykendall first met her father in Barcelona. He was—to her eyes, at least—an old man. She was nine. It was not the joyful beginning to a deep, loving relationship that young Alex hoped for. Instead, her father would stay on the edge of her existence, more uninvolved than not. The emotional scars of her father's absenteeism would color the rest of Alex's life and send her on a search to discover if she was really worthy of being loved.
These days it seems everyone has father issues and feels compelled to write about them. No doubt this is cathartic for the writer but it does not often translate into a particularly good read. In this instance, Alex's experience has the charm of variety—her absent father was an unnamed (but apparently renowned) artist who lived in Europe and her mother was a strong, globe-hopping, free spirit. Their daughter grew up to find Christ, work in a ministry, and settle down to create the all-American nuclear family her childhood lacked. It's a nice story, told with grace and good writing.
The author is on staff at MOPS International (Mothers of Preschoolers) and says she thought of MOPS members "as I wrote every word" which helps explain why her story is so heavily weighted toward her experience as a mom. Her account of finding meaning in motherhood, complete with the dirt (pun intended) on what it's really like to have a houseful of small children will resonate with maternal types but is less engaging for a childless reader. Fortunately for everyone, Alex is a capable writer who tells her story well, keeping the action moving along in short chapters that avoid too much extraneous detail.
Ultimately, this is a story about grace, forgiveness, and what really defines who we are. As Alex learns to see herself as a daughter of her Heavenly Father she guides the reader to look at their own life from a different perspective as well.
SEE ALSO: Chasing Francis A Pilgrimage To Truth
*This Review First Published 3/18/2013