"The Beloved Disciple" - Book Review
Whitney Hopler

Live It Editor

2003

13 Aug

COMMENTS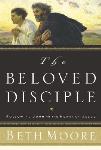 Author:      Beth Moore
Publisher: Broadman & Holman Publishers

Respected Bible teacher Beth Moore invites readers to imagine what it would be like to walk beside the apostle John in her new book, "The Beloved Disciple: Following John to the Heart of Jesus."  She explores the biblical books John wrote – the Gospel of John, 1 John, 2 John, 3 John, and Revelation – but also delves into other books that mention "the disciple whom Jesus loved."

Moore's excellent research and vivid descriptive talent often help readers to feel as if they are truly walking along with her beside John as he walks beside Jesus.  And, throughout the text, she poses questions to her readers to draw them further into the material.  "The Beloved Disciple" is an engrossing read.

Yet Moore sometimes skips around Scripture so much that she weakens her focus in the process.  Although her main point is that readers can learn from John that they, too, are Jesus' beloved, she doesn't seem to build all her chapters around this one profound truth.  The main message does come through, but not exactly loud and clear.  That's because Moore delivers so many other messages concurrently – on everything from courage and grace to women's ministry work and the end times – without a strong connection to the stated theme (other than the fact that John was present when the biblical events unfolded).

Still, readers who pick up "The Beloved Disciple" won't be disappointed.  They'll find a treasure trove of fascinating information that can help them draw closer to Jesus.  And by doing so, they can discover firsthand just how much He loves them.

Get 1 Christian Bestseller for FREE, plus FREE shipping.  Click  here for details.