The Birthday Book - Book Review
Whitney Hopler

Live It Editor

2002

9 Dec

COMMENTS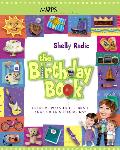 Author:      Shelly Radic
Publisher:  Zondervan
What parent doesn't want to give his or her child a fun and memorable birthday each year?  Birthdays are major milestones for children, so it's entirely appropriate to celebrate them as the significant life events they are. 
Some party-planning books help parents figure out how to outdo each other with elaborate events, while some emphasize returning to the simplicity of the cupcake and pin-the-tail-on-the donkey birthday parties of yesteryear.  But The Birthday Book: Creative Ways to Celebrate Your Child's Special Day takes a unique and most welcome approach.  Rather than focusing just on party details, it explains how parents can use birthdays to celebrate what's unique about their children and encourage them to keep growing into the people God has designed them to become.
Author Shelly Radic takes the time to explain why celebrating birthdays is so important for a child's development.  Then she offers lots of specific ways a parent can use the occasion to build a deeper relationship with his or her child--and help that child understand why God is celebrating, too.  Through activities such as creating a memory book or photo album, recording a child's voice, making a special birthday meal, writing a birthday letter, and selecting a theme Scripture verse to pray, a parent can pour God's love into a birthday child's life. It's only after covering these vital issues that Radic turns to the details of planning parties.
Not that the book isn't filled with innovative and practical ideas for birthday parties.  It is--to overflowing.  Parents can easily use The Birthday Book: Creative Ways to Celebrate Your Child's Special Day to plan a party for a youngster anywhere from age 1 to 18.  But by applying the book's ideas for celebrating their children, parents will give them a far greater gift than simply a fabulous party.
Buy The Birthday Book now at www.lifeway.com!