The Calling - Book Review
Whitney Hopler

Live It Editor

2002

3 Oct

COMMENTS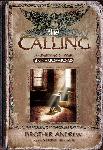 The Calling:  Stories of Those Who Walk the Narrow Road is so engrossing that it's nearly impossible to put down.  With every turn of a page, readers encounter thrilling stories of real-life efforts to bring the gospel to people in nations that are hostile toward Christianity.  The stories are dramatically moving, but more importantly, they motivate readers to consider how to be more effective ambassadors for Christ in their own lives.
Brother Andrew, founder of the worldwide organization Open Doors International, masterfully tells stories about his work visiting persecuted Christians, training them, smuggling Bibles into them, etc. in such places as the Middle East, China, Africa, Cuba, and the former Eastern European nations.
In addition to the stories, the book offers practical principles readers can use to help spread the gospel, information on various nations, and sidebars written by Open Doors volunteers.  The only void is created by the lack of testimonies from people who have benefited from Open Doors' ministry.
Brother Andrew is refreshingly candid when he writes that sharing faith will always involve risks, but that risks are necessary to make a difference.  He lovingly yet firmly confronts readers with the urgency of their task to be Christ's witnesses wherever they are--in their schools, workplaces, and neighborhoods.  He exhorts them to pray regularly for people living in hostile nations and charmingly states that, while he's grateful for his books' success, he would gladly trade in that success.  "How I wish that so many Christians would stand up and go to where God leads them that nobody will want to read a book about it!  Then you or I would never be famous, but at least we would be showing the world what real Christianity is," he writes.  Bravo!