The Christian Wedding Planner - Book Review
Stephanie Ottosen

Book Reviewer

2003

6 Jan

COMMENTS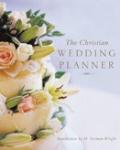 Introduction by H. Norman Wright
Publisher:  Bethany House
I curiously picked up this wedding planner because of the word "Christian" in the title.  I wondered, "Are there Christian marriage traditions I don't know about?" Or I thought perhaps the book might discuss the spiritual symbolism in the marriage preparations and ceremony.
While I--surprisingly--didn't find either, what I did find was a comprehensive wedding planner for prospective brides and grooms looking to create a traditional wedding.  This wedding planner is impressively thorough in explaining, guiding and advising on each and every area of a wedding--everything from cuts and settings of the engagement ring, to seasonal flowers for decorations, to seating arrangements for the rehearsal dinner.
What makes this book stand out is the way it not only helps the bride and groom accomplish the huge list of tasks involved in a wedding but also details the traditions and etiquette that go along with those tasks.  Though I'm not sure how "Christian" this planner is, it is still a valuable resource for brides-to-be.
Used by permission.  CCM Magazine © 2003  Click here to subscribe.