"The End Times Controversy" - Book Review
Whitney Hopler

Live It Editor

2003

3 May

COMMENTS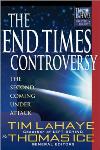 General Editors: Tim LaHaye and Thomas Ice
Publisher:            Harvest House Publishers
Has Jesus Christ already come to Earth a second time?  If you're like most Christians, you'll agree that such an idea is ludicrous in the face of both biblical texts and history.  But Tim LaHaye and Thomas Ice, cofounders of a Bible prophecy organization called the Pre-Trib Research Center, have devoted an entire book to proving a doctrine most Christians already agree is obvious – that the end times described in the book of Revelation are still ahead of us.
"The End Times Controversy" is aimed at combating the views of theologians called preterists, who assert that all the Bible's prophecy was fulfilled when Jerusalem was destroyed in 70 A.D.  It's always valuable to defend a literal interpretation of God's Word and confront any misguided theology that waters down the full truth and power of God's message.  But it seems presumptive to produce a huge book like this on a subject that doesn't require nearly so many pages to prove.  In fact, the book's exhaustive analysis of the topic renders it so unfriendly to lay readers that only clergy and seminary students could reasonably be expected to wade through all of its 429 pages (plus extensive notes).
If "The End Times Controversy" was simply a booklet containing just its three best articles ("Introduction: Has Jesus Already Come?", "Why Futurism?", and "Some Practical Dangers of Preterism"), it would still state its case for literal biblical prophecy just as clearly.  And readers wouldn't have to struggle under the weight of exhausting arguments, so they could more readily receive what the authors have to say.

Get 1 Christian Bestseller for FREE, plus FREE shipping.  Click here for details.