"The God I Love" -- Book Review
Whitney Hopler

Live It Editor

2003

20 Aug

COMMENTS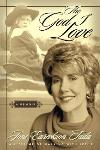 Author:     Joni Eareckson Tada
Publisher: Zondervan

Joni Eareckson Tada, who was paralyzed in a diving accident at age 17 and went on to start a far-reaching ministry to disabled people, has written her second memoir (the first was the best-selling book Joni, published in the 1970s and made into a movie).  But this new book, "The God I Love: A Lifetime of Walking with Jesus," is aptly named, because Tada's focus here is on God rather than herself.  Tada tells many stories of her childhood all the way through the present day in the book's 350+ pages, but always with one purpose in mind – to show how her faith was either damaged or strengthened by certain events, and ultimately, how her perspective of God grew clearer.

Early in the book, Tada writes about how important memory is to her.  She recalls that after her accident, she revived her memories and savored them.  "With a body that could basically no longer move or feel, I pulled up from my memory bank every jaunt to the beach, every horseback ride, every tennis game, every song, everything, and turned it over like a diamond, savoring its color and light."  Tada's amazing memory makes this memoir a book full of rich, vivid detail.  Her stories come alive so much that they sometimes seem to jump right off the page at readers.  Tada is no longer able to lead the physically active life she did before her accident, but the exuberance of her mind and spirit are in full evidence here.

Tada is also refreshingly honest as she describes the pain and disillusionment that certain events – both before and after her accident – brought into her life.  She doesn't sugarcoat or skip over anything, and readers can easily relate to her.  And when she describes the faith-building moments of her life, she is just as poignant and genuine as when she discusses the hard times.  She gives readers lots of food for thought as she shares how her childhood view of God grew into a more mature faith.

By the end of the book, Tada writes, "There are more important things in life than walking."  And, as incredible as that statement might have seemed to some people before they read her book, it should ring true once they have read the convincing stories of her life.

Get 1 Christian Bestseller for FREE, plus FREE shipping. Click here for details.