"The Hope of a Homecoming" - Book Review
Whitney Hopler

Live It Editor

2003

8 Jul

COMMENTS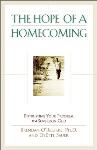 Authors:Brendan O' Rourke, Ph.D. and DeEtte Sauer
Publisher:NavPress

Parents who have had a child rebel against them and their values can experience intense pain and despair.  When they see their own children walk away from all they want for them – and especially a relationship with God – it can be as upsetting as watching them die.

Brendan O'Rourke and DeEtte Sauer, co-authors of "The Hope of a Homecoming: Entrusting Your Prodigal to a Sovereign God," know firsthand what that feels like.  They both have daughters who were once "prodigals."  And they draw upon their own experiences and those of others they know (O'Rourke is a practicing clinical psychologist) to enrich this book for parents who have wayward children.  Perhaps because of their own experiences, the authors include many more examples of rebellious daughters than they do of rebellious sons.  It would have been better to discuss both genders equally, but the examples still grip readers' hearts and illustrate the book's points well.

Throughout the book, O'Rourke and Sauer encourage readers to fight for their prodigal children's lives through the powerful weapon of prayer.  They discuss a variety of issues parents of prodigals confront – such as guilt, shame, fear, anger, grief, and patience – and suggest five specific ways of praying through all the issues.  Each chapter ends with the five "prayer strategies" readers can use to delve into the topic at hand.

Those practical prayer ideas are helpful, but the real treat comes in the first of the book's appendices: "Quiet Time Strategies."  There, the authors lead readers through some amazingly creative reflective exercises involving their hands, feet, and hearts that are bound to unlock some healing.

Get 1 Christian Bestseller for FREE, plus FREE shipping.  Click  here for details.