The J.R.R. Tolkien Handbook - Book Review
Stephanie Ottosen

Book Reviewer

2002

4 Nov

COMMENTS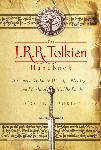 Author: Colin Duriez
Publisher: Baker Book House
If you saw The Lord of the Rings: Fellowship of the Ring, you know the extreme intricacies of the world Tolkien created. In The J.R.R. Tolkien Handbook, Duriez sets out not only to explain and bring some order to that intricate world but also to delve—albeit lightly—into Tolkien's life and literary influences.
Organized alphabetically, Duriez selectively defines characters, geographical locations and important events and history, occasionally giving lengthy reports for further significance.
Although the handbook can at times be frustrating, considering one definition often leads to a myriad of other definitions, Duriez' knowledge is helpful. Another plus is that Duriez provides a reference guide of Tolkien's life, thoughts, themes and a listing of books by and about the prolific author as well as terms relating to each literary work.
Used by permission. CCM Magazine © 2002
Original publication date: November 4, 2002