The New Bride Guide - Book Review
Whitney Hopler

Live It Editor

2003

20 Jan

COMMENTS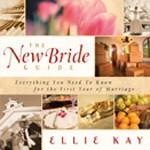 Author:     Ellie Kay
Publisher: Bethany House Publishers
The New Bride Guide bills itself as containing "everything you need to know for the first year of marriage," and while no book could possibly tell everything, this one certainly covers most of what newlyweds are likely to need to know.  The book delivers an abundance of practical advice--on topics such as planning a wedding and honeymoon, building a shared spiritual foundation, developing intimacy, communicating effectively, budgeting, relating to in-laws, and creating a hospitable home.
Author Ellie Kay writes in the warm and personable style of a friend, guiding readers through the book with sincerity and humor.  But, despite her appealing style, she comes across as irritatingly self-promotional.  Constantly, she writes about herself and her family, relying on her own life for just about every illustration.  If she would have gathered more stories from other people's lives, she likely would have acquired the material she needs to more fully connect her stories to her principles.  Some of the stories about her own life seem thrown in more for humor than to make an actual point.  As a result, after telling the stories, she often resorts to trying to explain how they're supposed relate to each chapter's topic.  And some of the stories about herself aren't new, but simply recycled from her previous books.  To top it all off, Kay keeps reminding readers that she's "The Savings Queen," and refers numerous times to her first book (Shop, Save, and Share) as if trying to sell more copies.
Still, Kay has delivered so much material that's genuinely helpful in The New Bride Guide that the book could make a valuable addition to any newlywed's library.  If readers are able to look beyond the distraction of Kay's supersized ego, they can discover principles that have great power to bless their marriages.