The Power of a Praying® Wife Named Award Finalist
Harvest House Publishers

2003

3 Jun

COMMENTS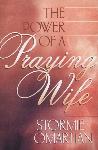 Stormie Omartian's The Power of a Praying® Wife is a finalist for The Jordon Christian Book of the Year Award for an unprecedented three years in a row. Co-sponsored by the Evangelical Christian Publishers Association and Christian Booksellers Association, the award will be presented at the 26th Annual Gold Medallion Banquet on July 12 in Orlando, Fla. Retailers will decide the winner by choosing the book they most enjoyed selling last year.
"Books in this category are recognized for their timely message and the significant impact they have on lives. To be singled out three years in a row speaks to the quality and long term effect The Power of a Praying® Wife carries," states Kelly Gallagher, ECPA's vice-president of marketing and technology.
"We're so happy for Stormie." adds Julie McKinney, vice-president of marketing at Harvest House Publishers. "The enduring popularity of this book shows how it is meeting a deep spiritual need in women's lives. What a privilege for Harvest House and our retail partners to be a part of this very personal ministry and message."
Since its debut on the CBA Christian Marketplace bestsellers list in 1998, a relatively select market of married women have pushed sales to nearly 2.5 million copies and propelled the book into the Top Ten for an amazing 50 consecutive months, including 37 months at number one. In May of 2002, the book broke a 21-year industry record by claiming the number one spot for 27 consecutive months.
Omartian's newest release, The Power of Praying™ Together, will debut at the CBA convention in July. It is a collaboration with her longtime pastor, Jack Hayford, which encourages people-in Omartian's characteristic vulnerable style-to pray with greater direction and purpose by praying with a friend, family member, co-workers, or Bible study group.
Combined sales recently surpassed six million copies for The Power of a Praying® brand -- The Power of a Praying® Wife, The Power of a Praying® Parent, The Power of a Praying® Husband, The Power of a Praying® Woman -- and ancillary products including prayer cards, audio books, prayer journals, and study guides. In addition, Harvest House recently began licensing trademark rights to other industry publishers and companies to produce new products in The Power of a Praying® line, which include Bible covers (Inspirio), and greeting cards and perpetual calendars (DaySpring Cards).

Courtesy of Harvest House Publishers