"The Purity Principle" - Book Review
Whitney Hopler

Live It Editor

2003

4 Jul

COMMENTS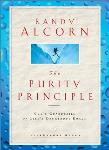 Author:     Randy Alcorn
Publisher: Multnomah Publishers

Purity is a vital issue, and many Christian authors emphasize the morality behind it.  But author Randy Alcorn takes another approach in his new book, "The Purity Principle: God's Guardrails on Life's Dangerous Roads."  That principle, he writes, is: "Purity is always smart; Impurity is always stupid."  Although, ideally, knowing that purity is morally right should motivate Christians to live pure lives, lots of Christians still live impure lives, writes Alcorn.  Real change can come, he writes, when they see how it would benefit them personally to make better choices about sexuality.

Alcorn doesn't mince words in this short yet hard-hitting book, and his ability to express himself so forthrightly and deal with weighty issues so succinctly makes the book quite effective.

While Alcorn does a good job of showing how destructive impurity is, however, he could have done more to show how beautiful purity is.  Although his "purity principle" is balanced, his discussion of it leans much more toward scaring people away from sexual sin than urging them toward purity by describing its blessings.

The book includes some useful tips on how readers can live lives of greater purity.  And it was a nice touch to include one chapter directed exclusively toward singles, and another for couples and parents.  Some of Alcorn's suggestions (such as asking hotel employees to remove the TV set from the room when checking in) can seem a bit extreme.  But, as he writes, people who are struggling with sexual purity need to be radical to win the battle.

Get 1 Christian Bestseller for FREE, plus FREE shipping.   Click here for details.