The Single Truth - Book Review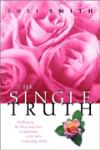 Gliding with ease between humor and heartache, Smith--who is single herself, it must be noted--addresses the numbing loneliness and grief that often accompany singleness, especially in those over 30.  She rather boldly states, "A lifetime of soaking up evangelical thought had not prepared me for serving God and finding great disappointment."  Yet she also admits feeling "foolish, selfish and petty" for at times being unhappy with her singleness when so many others face challenges much more tragic and devastating.
Very realistic yet very hopeful, The Single Truth makes us singles face the fact that we may never get married but then urges us to choose to believe that in spite of that, we are not incomplete, we are not deprived and we are not "out of God's will" just because we are single.  Along the way, Smith quotes everyone and everything from Scripture to Good Will Hunting, Bebo Norman to Dostoyevsky.
This book works equally well for both men and women, for those never married as well as those divorced or widowed.  The section on contentment—what it is and what it isn't—is vital, and Smith encourages us to learn to choose it again and again and again.  Her advice is practical, challenging, encouraging and devoutly Christian.  This is an excellent addition to the body of Christian work about the single life.
Used by permission.  CCM Magazine © 2002