The Spider Catcher - Book Review
Suzie Waltner

Book Reviewer

2003

4 Jun

COMMENTS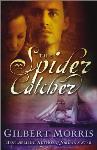 Author:      Gilbert Morris
Publisher: Zondervan


Just as Christ comes to save believers from what they would become without His salvation and love, Callie Summers experiences this truth in a tangible way as Rees Kenyon rescues her from a horrible fate and takes her with him to America.


Set at the beginning of the Revolutionary War, Gilbert Morris weaves the events involving the Boston Tea party, Paul Revere and General George Washington together in his book. And while it takes many pages to get to the main plot (Morris spends several chapters giving a thorough background on Rees), once Rees and Callie meet, the story sails along, and you find yourself rooting for these two people to fall in love.


However, the biggest challenge with this book is the dialogue. Although I can appreciate Morris' attention to Kenyon's Welsh accent, the effect on the readability, at times, can be more frustrating than it's worth. But as he goes to London to study medicine and later goes to America, the Welsh accent becomes very sporadic and almost endearing.

Used by permission.  CCM Magazine © 2003  Click here to subscribe.

Get 1 Christian Bestseller for FREE, plus FREE shipping.  Click here for details.