"The Story of the Resurrection Eggs" - Book Review
Whitney Hopler

Live It Editor

2003

13 Apr

COMMENTS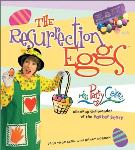 Authors:   Jean Thomason and Nancy Gordon
Publisher: Integrity Publishers
The Resurrection Eggs, produced by FamilyLife Ministries, have proven tremendously popular since their release in the 1990s. A pamphlet that explains the meaning of each of the symbols contained in the colorful eggs is included with the egg carton, but it's designed more for school-age children. Now there's a colorful, interactive book for preschoolers that explains the Easter story symbols in ways that speak well to them – "The Story of the Resurrection Eggs in Rhyme and Song."
This fun book, featuring the children's video character Miss Patty Cake, held my 5-year-old daughter's attention much better than the pamphlet accompanying her egg carton.  "The Story of the Resurrection Eggs in Rhyme and Song" focuses on seven of the 12 eggs during its main text, then covers the remaining five in a special section after the main story.  Authors Jean Thomason and Nancy Gordon mention in their introduction that they've organized the book that way so parents can either just highlight the major points of the Easter story with younger children or add details of the whole story for older children.
Parents had better be prepared to sing when reading this book to their little ones.  It includes five songs, each featuring the same delightful rhyme that pervades the text.  One of them ("Colors, Numbers, ABCs") has a suggested tune for parents to follow ("Christ the Lord is Risen Today").  Too bad the others don't.  Tying the other songs to a well-known tune would have helped tremendously for parents trying to figure out which notes they're supposed to hit.  Thankfully, most preschoolers will forgive adults if they sound more like confused geese honking then confident vocalists.
In addition to the songs and rhymes, kids will likely enjoy the combination of pastel art and photographs that illustrate the book.  And for those who want to know more about the history of the Easter egg, there's even a fascinating page on that very topic at the end.

Get 1 Christian Bestseller for FREE, plus FREE shipping.  Click here for details.