The Trouble with Jesus - Book Review
Whitney Hopler

Live It Editor

2003

15 Jan

COMMENTS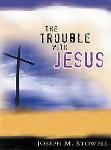 Author:    Joseph M. Stowell
Publisher: Moody Publishers
The tragic events of September 11, 2001 will surely be etched in Americans' memories for years to come.  In the aftermath of that day's infamous terrorist attacks, Americans were changed.  And many of those changes were positive.  People who had previously embraced relativism acknowledged the reality of evil.  People who hadn't prayed much before now made prayer a frequent practice.  And nearly everywhere in our country, people were mentioning God again.
But, unfortunately, the name of Jesus has been conspicuously absent from America's cultural resurgence of faith.  It's easy to overlook the fact that, in our new national dialogue, God is now welcome but Jesus is often not.  Thankfully, author Joseph M. Stowell, president of the Moody Bible Institute of Chicago, draws readers' attention to this important issue through his book The Trouble with Jesus.
Stowell analyzes the roots of the problem in the book's first three chapters.  But he doesn't stop there.  For the rest of the book, he provides thoughtful and practical principles readers can use to stand up for Jesus amid the ecumenism that's now fashionable in America.  After all, Stowell points out, Jesus stood up for all of us when He died on the cross for our sins.
The Trouble with Jesus boldly yet warmly encourages readers to consider whether or not their own attitudes and actions honor Jesus and point others toward Him.  It successfully motivates readers to mention Jesus' name, perform acts of kindness that arouse people's curiosity about their faith, help meet pressing needs and address issues like poverty and disease, welcome all people into their churches, and reject complacency in favor of actively pursuing Jesus.