The Truth of the Matter Continues Race for Survival
Kelley Mathews

Crosswalk.com Contributing Writer

2010

21 Dec

COMMENTS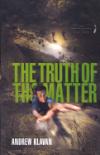 Author: Andrew Klavan
Title: The Truth of the Matter
Publisher: Thomas Nelson

In this third installment of The Homelanders series, Andrew Klavan continues the adventures of young Charlie West, the all-American teen who wants to attend the Air Force Academy, just fell in love, and knows a little karate. But the idyllic high school life Charlie knew has disappeared, and he's running a dangerous race for survival.

As The Truth of the Matter opens, Charlie is trying to regain memory of his past year. He knows that he was accused and convicted of murdering his friend Alex, and that the police are after him because he somehow escaped. He doesn't think he actually killed Alex, and he doesn't remember how he escaped. He does know that the Homelanders, an Islamo-fascist terrorist group, want him dead. Why? He doesn't quite remember that either.

Snippets of memory reveal one man, Waterman, who can help. But when Waterman finds him, only to arrest and interrogate him, Charlie doesn't know which side Waterman is on, nor which side he himself is on. Is he a good guy or a bad guy? What did he do to put himself in this danger, and can he regain his memory in order to survive?

As the story progresses, Charlie finds himself literally running for his life. The author loads the pages with breakneck action and high tension. Charlie experiences situations in which he must make a sudden judgment and decision that could ruin or save him. He deals with fear, uncertainty, and doubt about his own abilities. And in doing so, he demonstrates strength of character and an ability to cling to the truth and act upon it even when circumstances are going wild around him.

So who is Charlie West, really? A murderer or an innocent friend? A traitor or a patriot? Readers will fly through the pages with Charlie as he pieces together the truth of the matter.

Boys from 6th to 10th grade should enjoy following Charlie's breakneck race to discover his true identity. Parents can comfortably hand them the book, knowing that they will find clean language, thoughtful issues about right and wrong, and conflict that forces Charlie (and hence the readers) to examine his faith. Klavan's enthusiasm for conservative values and politics may turn off some parents, though I did not find anything objectionable. Through Charlie's conversations with others, the author also makes clear distinctions between good and evil. Charlie finds himself faced with many opportunities to choose one or the other.

Klavan, who also writes adult thriller/adventure novels, does a good job of including enough background in this, book 3, so that books 1 and 2 are not necessary to understand the plot. However, it is easy to see how reading all the Homelanders books in order will enhance the story tremendously. When I hand this series to my middle-school-aged son, I'll be sure to start him at the beginning.


**This review first published on December 21, 2010.