The Visitor - Book Review
Whitney Hopler

Live It Editor

2003

4 Mar

COMMENTS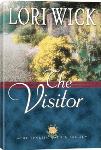 Author:     Lori Wick
Publisher: Harvest House Publishers
Readers looking for an escape into a pleasant imaginary world will likely enjoy reading The Visitor.  The novel, set in England in 1812, deftly tells the stories of several aristocratic families living near each other.  When one of the characters temporarily loses his eyesight after a fall from his horse, a young woman visits regularly to read to him, and in the process, they fall in love.
The Visitor is sometimes reminiscent of Pride and Prejudice--full of characters who playfully banter their feelings about during the frequent visits and letters they exchange with each other.  But, too often, The Visitor's characters come across as overly self-absorbed and sanctimonious.  For all their churchgoing and soul-searching, they seem curiously joyless.  Instead, they spend entirely too much time sitting around in their mansions and gardens analyzing their sins (which are very tame by today's standards), then somberly and piously confessing them to each other.  If the book was set in our modern era, these self-obsessed characters could easily fit into a Woody Allen movie.  Women seem to cry at the drop of a hat, and the men unfortunately also seem too emotional, even without tears.  One male character actually writes a maudlin letter to his sisters apologizing in detail for not talking enough about his faith for them to be sure of his salvation.
Still, the plot's main thread is often engaging.  If readers find themselves annoyed by some of the ancillary characters, they'll still likely be charmed by the story of how the young man with bandaged eyes and his lovely visitor break free of their darkness and find the light of God's love.
Get 1 Christian Bestseller for FREE, plus FREE shipping.  Click here for details.